RAGE4 185mm
TCT Multipurpose Cut Off Saw
Cuts Steel, Aluminium & Wood
With One Saw & One Blade!
Utilising patented professional RAGE® technology; easily cuts Steel, Aluminium, Wood (even wood with nails) and Plastic, using just one blade! Features a hi-torque gearbox, which reduces motor stresses, improving performance and durability.
Advanced performance; out performs normal cutting saws. When cutting Steel, it leaves an instantly workable finish, producing no heat, no burr and virtually no sparks - unlike alternative methods. Easier to use than a hacksaw, far more portable than a cut off saw.
No more need to tirelessly toil away with a hacksaw, the RAGE4® leaves an instantly workable finish in a fraction of the time. Designed exclusively for Electricians and Plumbers, this incredible multipurpose saw can save you time and energy every single day. It produces a fast, ultra clean cut through armoured cable, unistrut and cable tray, as well as conduit, chrome, copper & plastic pipe, plus plastic hose.
Fast action swivel clamp with solid steel jaws enables cuts to be made from 0-45°. Other features include a robust, durable base - ideal when attacking metallic applications! Overall, the RAGE4® is easy to transport, taking up little space whilst offering huge performance.
Don't Forget: Evolution's accessories include the 185mm Diamond Blade available for cutting Stone, Concrete and Brick. With this accessory, the RAGE4® is the complete cutting package!
Why would you buy a saw that only cuts wood?
When you can buy a RAGE4® multipurpose saw!
Watch a video on how to safely cut steel with this saw here.
RRP
£119.99
Inc VAT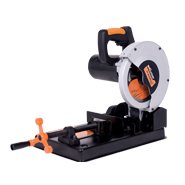 Product Code:


110v: RAGE41851
230v: RAGE41852
*Picture shown is for marketing purposes only. Do not cut more than one material at a time.