RAGE 185mm
TCT Multipurpose Circular Saw
Cuts Steel, Aluminium & Wood
With One Saw & One Blade!
Utilising patented professional RAGE® technology; easily cuts Steel, Aluminium, Wood (even wood with nails) and Plastic, using just one blade. The RAGE® blade system cuts up to 50m of 6mm Steel plate!
Advanced performance; out performs normal cutting saws. When cutting Steel, it leaves an instantly workable finish, producing no heat, no burr and virtually no sparks - unlike alternative methods.
0-45° bevel tilt enhances the versatility of the saw. Other features include a safety switch with overload protection and an auto-debris collection system, which collects chippings automatically.
Heavy-duty and extremely portable. Features an easily adjustable depth of cut, plus a clear visibility panel to aid accurate cutting.
Don't Forget: Evolution's optional 185mm Diamond Blade available for cutting Stone, Concrete & Brick. With this accessory, the RAGE® is the complete cutting package!
Why would you buy a saw that only cuts wood?
When you can buy a RAGE multipurpose saw!
RRP
Discontinued
Inc VAT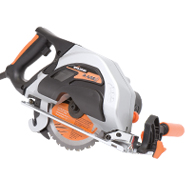 Product Code:


110v: RAGE11851
230v: RAGE11852
*Picture shown is for marketing purposes only. Do not cut more than one material at a time.