RAGE3-B 210mm
TCT Multipurpose Mitre Saw
Cuts Steel, Aluminium & Wood
With One Saw & One Blade!
MULTIPURPOSE CUTTING
Utilising patented professional RAGE® technology; easily cuts Steel, Aluminium, Wood (even wood with nails) and Plastic, using just one blade.
VIRTUALLY NO SPARKS
When cutting Steel it leaves an instantly workable finish, producing no heat, no burr and virtually no sparks - unlike alternative methods.
SECURE TOP CLAMP
Features top clamping mechanism for optimum cutting security, as well as preset mitre stops at 0°, 15°, 22.5°, 30° & 45°. See the Evolution Mitre Saw Cutting Guide.
EASY STORAGE
Extremely compact dimensions provide excellent portability and easy storage.
0-45° bevel function
0-45° bevel function allows for cuts to be made on a tilt, for even more cutting versatility.
Why would you buy a saw that only cuts wood?
When you can buy a RAGE3-B® multipurpose saw!
RRP
Discontinued
Inc VAT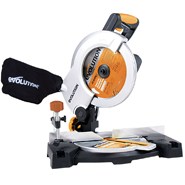 Product Code:


110v: RAGE3B2101
230v: RAGE3B2102
*Picture shown is for marketing purposes only. Do not cut more than one material at a time.