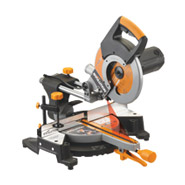 George Clarke's Amazing Spaces - RAGE3
RAGE3 does it again! George met a woman who wants to build a shop and a mobile home out of an old horsebox, with a small budget and a lot of old materials.
She had the RAGE3 multipurpose sliding mitre saw at hand, which made light work when cutting the steel frame and wood with nails. Evolution RAGE Technology outperforms alternate methods of cutting steel. When cutting Steel, it leaves an instantly workable finish, producing no heat, no burr and virtually no sparks. Proving that, with a little creativity and an Evolution Multipurpose saw, anything is possible.
Don't forget! The 210mm Diamond Blade transforms this Mitre Saw into a sliding tile cutter; ideal for roof tiles!
Copyright © 2020 Evolution Power Tools Ltd.