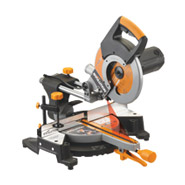 Building The Dream with Charlie Luxton
Graham and Nicky Daniel build their ambitious contemporary home on a secluded woodland site with a a bit of help from the Evolution RAGE3-S.
Evolution RAGE Technology outperforms alternate methods of cutting steel. When cutting Steel, it leaves an instantly workable finish, producing no heat, no burr and virtually no sparks.
Don't forget! The 210mm Diamond Blade transforms this Mitre Saw into a sliding tile cutter; ideal for roof tiles!
Copyright © 2020 Evolution Power Tools Ltd.