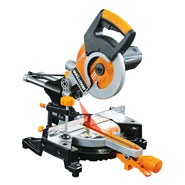 'The 10 Best Power Tools' by The Independent
The Independent published 'The 10 Best Power Tools' on January 1st, recommending the RAGE3-S as the only Mitre Saw you'll need this year.
"This saw cuts through steel, aluminium and nail-embedded wood using just one blade. It's easy to assemble and simple to use and almost impossible to fault."
The RAGE3-S utilises patented RAGE® technology; easily cutting Steel, Aluminium, Wood with nails and Plastics, using just one blade. Featuring a compound 0° - 45° bevel tilt and slide mechanism, for long angled cuts, ultra light laser guidance for optimum accuracy, plus a robust outer casing which enhances durability. Fit a 210mm Diamond Blade to the machine and you have the perfect sliding tile cutter.
Read more reviews on the RAGE3-S.
Copyright © 2020 Evolution Power Tools Ltd.